The Kinetic Approach
Selected as a finalist for the Live Media / Performance category of the Celeste Prize 2011 - New York. The Kinetic Approach will be included in the 2011 celeste.prize catalogue and will be exhibited at the Invisible Dog Art Center in Brooklyn, New York, November 11-13.
I am working out the logistical aspects of travelling to New York with all the supplies and equipment required for the installation. Hopefully I will be in Brooklyn the week of November 7th.
Update December 20, 2011:
The trip to New York and the Celeste Prize 2011 show went very well. I met some great people, saw some incredible art and performances in the show, and reacquainted myself with NYC after not visiting for a very long time.
Here are some photos that the Celeste Prize organizers took of me and my installation.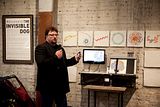 Once I have all the content gathered and submissions complete, I will start planning for Phase 2 where I am considering rewriting the code in
Processing
and using its capabilities to explore additional mathematical constructs, utilizing refillable plotter pens with brilliant mixable inks to expand the installation's colour palette, and possibly upgrading to a larger size Roland plotter, if I can find one.
My research has provided me with new understandings of Washi - Japanese hand made paper, the basics of colour theory, Rapidoplot archival plotter pens, rare earth magnets, and shadowbox framing techniques. But more on the technical aspects in another post.
A special thanks to The Paper Place and Woolfitt's Art Enterprises for having great selections of washi to browse and for the personalized help in choosing the best types of handmade paper for this project. And special thanks as well to Patti at WNC Supply who has been a great help in sourcing the plotter pens and ink.
This is a time-lapse of four renders over four days during my stay at the Gladstone: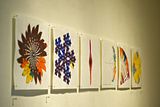 Artist's Statement:
The Kinetic Approach Ink on Washi (Japanese handmade paper) Computer, monitor, plotter, shelf 200 x 200 cm installation Includes ten 30 x 30 cm pieces A hybrid system is a dynamic system that exhibits both continuous and discrete dynamic behaviour - a system that can both flow and jump. - Wikipedia For The Kinetic Approach, I have taken this definition and applied it to a live media installation which generates one ink on Washi piece during each day of the exhibition. The system transforms a mathematical construct in virtual space to an abstract rendering in real space through motion, ink, and Washi. The experience is one of observation and precision as the system continuously and meticulously generates the day's work over the span of several hours. This is the flow, the transformation of pixels to ink. As each piece is finished, it is added to the installation, completing a matrix of ten works by the closing of the exhibition. The experience is one of discovery and exactness as each day reveals a new pattern. This is the jump, the human intervention of plotter to wall. The Kinetic Approach is at once static and dynamic, analog and digital, manual and automatic, determined and random, retro and modern.


The generative media installation I have been working on is now complete to what I am calling "Phase 1".
I have rented a studio at the Gladstone Hotel in Toronto for one week so that I can produce 10 pieces and document the process for use in future submissions to galleries, exhibitions, and events.
I will be in the studio - Room 204 - Wednesday, July 20 to Sunday, July 24, from 1 to 7 PM each day. Feel free to stop by and say HI if you are curious.
Its been quite a process to get to this point with an abundance of research, experimentation, discoveries, and programming. The Roland DXY-980 plotter is working beautifully in conjunction with the Apple Mac Mini running Adobe Director.