Virtual Emotions 12.1
Part of the 2nd annual Black & White Ball exhibition at Propeller Centre for the Visual Arts.
This piece is the first in a series where I am exploring new ways of using my Roland DXY-980 plotter (see The Kinetic Approach) in the media arts.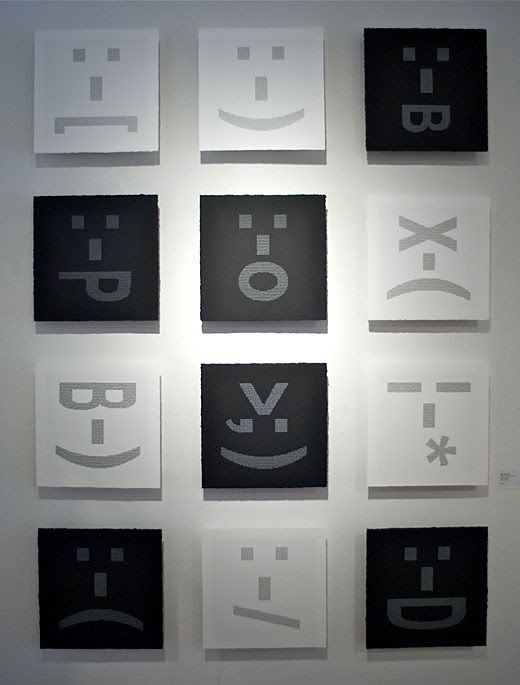 I created this piece during my exploration of using black ink on white paper and white ink on black paper. The archival inks are from Koh-I-Noor and the paper is Somerset printmaking paper, but more on the technical aspects in a future post.
Artist's Statement:
Virtual Emotions 12.1
Ink on Paper with software controlled pen plotter

112 x 152 cm

As the world of online social media encroaches into our physical world, genuine interaction and emotions are replaced by virtual representations. Do they possess the same power?

This piece is an amalgam of the virtual and physical, combining generative computing techniques with archival ink and paper.

Each square is produced with a pen plotter controlled with the Processing programming language running on a Macintosh. The large emoticons consist of hundreds of plots of the corresponding ASCII characters and are based on the square's design, with additional stochastic positioning.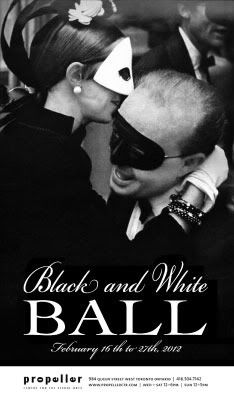 The Black and White Ball reception at Propeller has become a great evening where most of the artists and visitors are fully into the spirit of the event.
Here is a photo next to my piece. I was wearing my "Blues Brothers" glasses in lieu of a mask.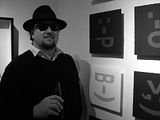 I am continuing with my exploration into this theme but not only with black and white. I will be submitting to a couple of open calls in London and New York.
Check back soon for an "in depth" posting.