In the 4 year Propeller exhibit version, I used headphones as amplifying the sound did not fit with the show's aesthetic.
Artist's Statement:
a WIRED vision
10 years of predicting how new and developing technology affects culture,
the economy, and politics
1993 – 2002

Wired magazines, LCD monitors, speakers, computer, custom software
300 cm x 280 cm

a WIRED vision is a compelling sensory experience for the visitor that combines the tactile nature of print publishing and the limitless expanse of digital media.

Actual Wired magazines (the complete sets from 1993 to 2002) are mounted to the wall forming a visual array of its remarkable design.

The LCD monitors continuously display "Introduction" spreads that are contained in each issue. These spreads feature a visionary quote from an article in combination with inventive graphic design in the style pioneered by Quentin Fiore in Marshall McLuhan's The Medium is the Massage: An Inventory of Effects (1967).

Custom software displays the spreads using various dynamic visual effects and "reads" the quotes using a synthetic computer-generated voice. To avoid repetition, the software creates a randomly generated loop of all 114 quotes/spreads. At the end of the complete loop, a new loop is randomly generated.

The computer also provides an ethereal music soundtrack to complete the entire experience.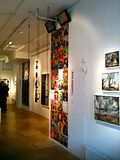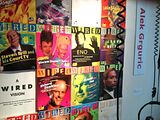 I'll be providing more information on a WIRED vision and how it will be exhibited on Nuit Blanche in a future post.